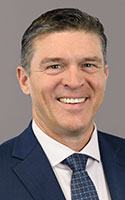 Dr. Jeffrey Weiss
Dr. Jeffrey Weiss has served as a passionate, dedicated educator and educational leader since 1994. His degrees include a Bachelor of Arts from the University of Wisconsin-Parkside in 1993, Master of Science in Education in 2004 from Carthage College and a Doctorate of Education from Cardinal Stritch University in 2017.
As a former long-term resident of Kenosha whose three children are products of KUSD, Dr. Weiss is excited to return to the community that he once called home and support the students, staff and families of Kenosha Unified. He strongly believes that the success of all students is essential for the entire community.
Dr. Weiss' career in education began in 1994 when he accepted the role of substitute teacher in the Kenosha Unified School District. He then began teaching full-time in 1995 when he became an English/reading specialist at Zion-Benton Township High School. His work as an educational leader began in 2003 when he served as a subschool principal at Washington Park High School in Racine.
Since that time, he has held a variety of leadership positions, including supervisor of English/Language Arts, director of curriculum and instruction and assistant superintendent for elementary education in the Racine Unified School District. In 2013, he began his work as a superintendent in the Richmond School District for six years before being named superintendent of the School District of South Milwaukee in 2019. There, he implemented a continuous improvement process, served as a strong advocate for public schools and leveraged funding to improve facilities.
Dr. Weiss is an educational leader who believes in continuous improvement as a means to helping all students succeed. He looks forward to supporting staff and schools in creating welcoming learning environments that allow students to achieve at their highest potential. He is committed to accomplishing much of this work through building strong relationships with staff, students, families and the community.