KUSD's Virtual Backpack provides an outlet for the district and community organizations to share events, activities and resources with our families in one easy to access location. Materials and/or activities below may not be sponsored by KUSD or its personnel.
Organizations wanting to add an item to the Virtual Backpack should review the procedures and Board Policy 1520 prior to submitting requests as outlined.\
---
Sylvan Learning Summer Program
-posted May 22, 2023
When school is out, learning is in! A summer at Sylvan can be the best investment you can make in your life! See what Sylvan has to offer over the summer.
---
Kenosha County Success Fair – June 2
-posted May 17, 2023
Find local and regional health, wellness and career resources to benefit your whole family!
---
Sail the Norwegian Jade Leaving Tampa, Florida – March 31, 2024
-posted May 16, 2023
Your dream vacation is waiting on board Norwegian Jade. As you cruise from port to port along stunning coastlines, we'll keep you entertained day and night with exciting nightclubs, award-winning restaurants, a grand casino, lush swimming pools, a luxurious spa and so much more. There's tons of fun for kids too, so bring the whole family and enjoy the adventure of a lifetime.
---
Journey Church: Ready, Set Move! – July 17-20
-posted May 15, 2023
This is an engaging, strategic, fun-filled week to set the tone for the VERY BEST SUMMER (VBS). Through 4 days of exciting stories, crafts, games, snacks, small groups & more, your elementary aged kiddo will have an absolute blast!
DATE + TIME: July 17–20, 2023, 9AM–12:30PM
GRADES: K–5th Grade
COST:

$25 per child
---
Phenom Baseball and Softball Summer Camp
-posted May 12, 2023
Session 1: June 12-16
Session 2: June 19-23
9:00a-3:00p
Girls/Boys Ages 5-12
Camp will focus on fielding, pitching, hitting and catching.
---
Help Kenosha county attract broadband investment!
-posted May, 12, 2023
Complete the speed test at home or at your business. Do not use your cellular connection or hotspot. If you do not have internet access, visit a public library, or a family member/friends' house to take the test.
---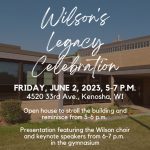 Wilson Legacy Celebration – June 2
-posted May 12, 2023
Earlier this year, Kenosha Unified announced the closure of Wilson Elementary School effective July 1, 2023. To honor its many years of service to the community and families served, Wilson will be hosting a Legacy Celebration on Friday, June 2, 2023, from 5-7 p.m.
This event is open to the entire community and current and past students and staff are encouraged to attend. Guests will be able to walk the halls and reminisce about the past from 5-6 p.m. There will then be a presentation featuring the Wilson choir and keynote speakers in the gymnasium from 6-7 p.m.
---
Water Safety Coloring Contest
-posted April 24, 2023
PURPOSE: The Kenosha Community Sailing Center is hosting this coloring contest to promote water safety in our community. We are a non-profit that teaches youth and adults the sport of sailing, water safety and conservation. We are organized for charitable, scientific and educational purposes.
PRIZES: Prizes for all age categories: Basket of age-appropriate water toys and Kenosha Community Sailing Center gift certificate to be used towards sailing courses, programs or rentals (duck pedal boats, kayaks and SUPS). Retail value: $50. Age categories: 4-6 yrs, 7-10 yrs, 11-13 yrs, 14-16 yrs, 17-adult
ENTRY: Please submit your coloring page(s) by June 30, 2023 to enter our contest. Our mailing address is Kenosha Community Sailing Center, PO Box 123, Kenosha WI 53141 or send it electronically to info@kenoshasailing.org. To download more coloring pages, please visit our website at www.kenoshasailing.org. Artwork will not be returned and may be used for promotional purposes. Please include your name, email, address and age.
---
Girl Scouts
-posted April 24, 2023
Big fun. New friends. Best friends are magic. With them by your side, bath towels become superhero capes, jungle gyms turn into castles, and everything feels just a little more possible. Become a Girl Scout and open your world to a lifetime of friendship and fun.
New Girls in K4-1st grades register for free starting April 1
RSVP appreciated but not necessary
---
KUSD is hiring!
TEACHERS: Due to annual natural attrition, KUSD is looking for teachers to join our #KUSDfamily. If you or someone you know is looking to educate amazing students while working alongside passionate, highly-qualified individuals, apply today!
Check out our various openings today!
---
KUSD and ELCA Outreach Center GED Program
Let us help you earn your degree! Kenosha Unified School District, in partnership with the ELCA Outreach Center, offers weekly GED preparation classes that will help you achieve your goals.
SMALL CLASS SIZE:
Small group classes meet twice each week at the ELCA Outreach Center to prepare adult learners for the GED exams that will be taken at Gateway Technical College.
TARGETED FOCUS:
This program is broken into four main sections of the GED test: language arts, science, social studies and math. Each section is 10-15 weeks long and free child care is provided as needed.
FEES COVERED:
Vouchers for one test per topic are available to each student who attends all the classes. Textbook costs are also covered by this program.
REGISTER:
Contact Carmen Delgado at 262-359-7944, or visit kusd.edu/evenstart to learn more.
---
Earn your GED or HSED at Gateway
We're here to help you get your high school diploma. Gateway Technical College gives you a personal education plan and free support while you prepare to earn your GED/HSED.
Enroll in an upcoming GED/HSED Prep Course:
Learn in person or online.
Attend during the day or in the evening.
Courses taught in English or Spanish.
Classes are FREE to Wisconsin residents, and financial assistance is available to cover test fees.
Learn more about the program and how to register with this flier.
---
2023 Summer Youth Recreation Programs
-posted March 8, 2023
Supervised Playgrounds
Swimming
Tennis Instruction
Elementary Baseball/Softball Instruction
Elementary Basketball Instruction
Elementary Soccer Instruction
Weight Training
Summer Recreation – Learn More and Register
---
Nike Basketball Camp
-posted March 2, 2023
At Pleasant Prairie RecPlex
July 31 – Aug. 3 (Mon-Thurs 8:30am-4pm)
Meals: lunch is provided daily
Age group: 8-14
Gender: coed
Nike Basketball Camp flyer – English (PDF)
Nike Basketball Camp flyer – Spanish (PDF)
---
Hummingbird Tutor
-posted Feb. 24, 2023
Whether you're looking for homework help, skills-based learning, or something else, Hummingbird tutor is here to help and support your child's learning. Sign up today to view open sessions by visiting hummingbirdtutor.com.
---
Help Me Grow
-posted Feb. 23, 2023
Help Me Grow is a national resource program that is now in Kenosha! We work with families with children birth to 5 with any childhood questions, concerns or needs as well as developmental screenings. We are a resource hub for parents to call to then get connected to the local resources within our community that best fits their needs.
---
Inclusive & Adaptive Programs at Kenosha YMCA
-posted Jan. 23, 2023
We believe everyone, regardless of ability, has the right to recreational opportunities, and that is why Inclusive and Adaptive Programs exist here at the Y. These programs offer kids the opportunity to break through the perceived boundaries of their disabilities, while making new and lasting friendships and having fun.
The Miracle League (Spring/Summer & Fall Leagues), ages 3 – 19 years old
Super All-Stars Sports (Year-Round), ages 3 – 19 years old
Super Stars Dance (Year-Round), ages 7 – 17 years old
Tri My Best Triathlon (Aug. 13, 2023), ages 5 – young adult
More information:
---
Camp Invention
-posted Jan. 20, 2023
Register at INVENT.ORG/CAMP or 800-968-4332
Grades: 1st – 6th
Location: All Saints Catholic School, 4400 22nd Ave, Kenosha, WI 53140
Date: June 26 – 30, 2023
Time: 9:00 AM to 3:30 PM

Cost: 

$270 (before discount)
More information:
---
Little Scoopers Lacrosse
-posted Nov. 1, 2022
More information:
---
FREE: Student and Family Assistance Program
-posted Oct. 10, 2022
To promote healthy homes, minds and families, as well as address mental health concerns, KUSD is proud to offer the Student and Family Assistance Program (SFAP) sponsored by the Employee Assistance Program of Advocate Aurora Health.
How it Works
The SFAP offers counseling and problem-solving services in a variety of areas at no charge to all students and family members residing within the household. Help begins when a family member or legally responsible adult calls the program. This program is not designed to diagnose or treat individuals, but can help find appropriate supports if needed. LEARN MORE
---
We're Hiring Substitute Teachers
-posted Oct. 10, 2022
WE'RE HIRING! Make an impact today and join our KUSD family by becoming a Substitute Teacher.
DO YOU:

Want to help students succeed?
Have an associate or bachelor's degree?
Enjoy a flexible schedule?

Apply today or contact subservices@kusd.edu for more information.
More information: Substitute Teacher flyer (PDF)
---
Kenosha YMCA Programs
-posted Sept. 2, 2022
Before and after school enrichment
Achievers
Youth sports
Aquatics
All-stars
Dance
Martial Arts
STEM
More information:
---
Cub Scouts
-posted Sept. 2, 2022
Join a Cub Scout Pack in your area and experience a variety of fun activities that build skills and character, both indoors and outdoors. All girls and boys are welcome!
For more information, visit BeAScout.org or contact Austin Gulbrandson at Austin.Gulbrandson@Scouting.org or 414.443.2860.
More information:
---
Free Classes to Learn English at Gateway Technical College
-posted Aug. 29, 2022
Gateway's English Language Learning program offers instruction in reading, vocabulary, writing, grammar, listening and speaking. Classes meet two days a week for six hours per week. Multiple levels of classes are offered.
You must be at least 18 years old. You will need a photo ID.
Summer semester: May-June
Fall semester: September-December
Spring semester: January-April
More information: Gateway ELL flyer – English and Spanish (PDF)
---
Building Our Future
-posted Aug. 19, 2022
Building Our Future is a network of community leaders representing all sectors of Kenosha County committed to improving student outcomes. Our partnership unites existing programs, organizations and community resources to reach our shared goals. ​Data allows us to measure our impact, continuously evaluate and improve our process, while shining a light on our successes and bright spots!
Podcast: Together, We're Better!
Get Involved: Whether you are a concerned citizen, business leader, educator, parent, or community volunteer, please consider donating your time, talents, or treasure to help make a difference in the lives of every child, from cradle to career. Complete this form to get involved and learn more today!
---
Bright by Text – text BADGER to 274448 for free parenting tips
-posted June 24, 2022
We know parenting can be overwhelming. We're here to help, one text message at a time. What to expect from our weekly text messages?
Easy, practical tips and info for parents & caregivers.
Messages timed exactly to your child's due date or date of birth.
Info about free services and events based on your zip code.
Sign up online for Bright by Text
Bright by Text flyer – English
Bright by Text flyer – Spanish
---
Boys & Girls Club of Kenosha
Each child attending the Club needs a membership. Memberships are $20 per child per year or $30 per family per year. The fee is waived for all teen members (ages 13-18). Program areas of focus include education, leadership, recreation, health and life skills. A healthy meal or snack is served daily.
Troha Youth Center & Tween Center
Teen Center
Laken Family Jefferson Elementary Extension
BGC Sports

​​BGC Sports (part of Boys & Girls Club of Kenosha) offers youth sport leagues and
clinics to kids ages 4 – 18. Adult leagues are also run in select sports.
---
Education Foundation of Kenosha: Seeking Board Members
The Education Foundation of Kenosha was organized in 1980 to support the Kenosha Unified School District and its
mission. The Foundation has financed a wide range of educational and enrichment projects not able to be funded
through the District's normal budgetary allotments.
The Board raises and administers funds to support:

College scholarships for Kenosha K-12 students
Classroom grants to support K-12 teachers

Commitment:

Attend four board meetings per year
Promote and attend fundraising events
Participate on one subcommittee

INTERESTED? Send your resume and a letter of interest to Stacy Busby at sbusby@kusd.edu or 3600 52nd St.,
Kenosha, WI 53144
Learn more about the EFK at educationfoundationkenosha.org​
---
Even Start Family Literacy Program
Need Help with English? Want to Learn English?
For families who reside in the Kenosha Unified School District attendance area.
Adult education provides parents with basic skills, including English, life skills and the opportunity to earn a high school credential.
Parent education provides parents with a wide variety of learning topics, including parenting strategies, how to be advocates and role models for their children and strategies to support their children's learning.
---
Everything Under the Sun
A youth and family activity guide of things to do in the Kenosha area.
---
FoodShares Benefits
Families with FoodShares benefits: Use your EBT card at Kenosha HarborMarket and Westosha Market
---
Great Lakes Surf Rescue Project – Water Safety Resources
Videos

Dave Benjamin's 

drowning accident

 and 'Because I said I would' water safety promise video

John & Kathy Kocher's "

Gentle Giant

" 'Because I said I would promise video.
---
Kenosha Community Health Center
High-quality, affordable health care for all. Visit KCHC online.
Dental Services
Back to School Annual Physical Appointments
Sports Physicals
Student Immunizations
Prescription Program
---
Kenosha Public Library
We offer tons of free activities for children, adults, and families all year round!