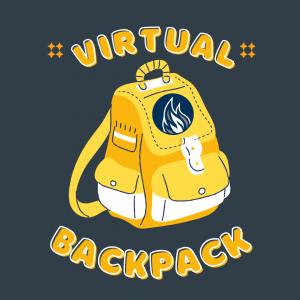 KUSD's Virtual Backpack provides an outlet for community organizations to share events, activities and resources with our families in one easy to access location. Schools also have a link to this information on their websites and in school newsletters so families may easily access this information.
Organizations wanting to add an item to the Virtual Backpack should review the procedures and Board Policy 1520 prior to submitting requests as outlined. Inclusion on the list shall not be construed as an endorsement or approval of the materials by the district. Recognizing the primary mission of the district is to meet the educational needs of its students, the district reserves the right to deny requests. Materials and/or activities below are not sponsored by KUSD or its personnel.
---
Bright by Text – text BADGER to 274448 for free parenting tips
-posted June 24, 2022
We know parenting can be overwhelming. We're here to help, one text message at a time. What to expect from our weekly text messages?
Easy, practical tips and info for parents & caregivers.
Messages timed exactly to your child's due date or date of birth.
Info about free services and events based on your zip code.
Sign up online for Bright by Text
Bright by Text flyer – English
Bright by Text flyer – Spanish
---
Kenosha Public Library Outreach – June 13-Aug. 26
-posted June 9, 2022
Kenosha Public Library Outreach services will be serving neighborhoods with literacy enrichment this summer, June 13- August 26. We will have Park & Play Storytime four mornings a week and bookmobile stops Monday-Saturday. Students and families will have easy access at:
Grevenow
Frank (at Columbus Park)
Lincoln MS/KTEC East (at Lincoln Park)
Curtis Strange
Nash
Brass
McKinley/KTEC West
Somers
Stocker
Vernon/Brompton (at Anderson Park)
---
Asthma Care Program
-posted May 20, 2022
The Asthma Care Program is a FREE program at Kenosha County Public Health that provides people with asthma with self-management education and a home walkthrough to identify asthma triggers and ways to reduce them. Participants are also gifted asthma-friendly cleaning supplies and bedding upon completion of the program. The goal is to empower people with asthma to learn more skills to reduce their asthma symptoms and be their healthiest selves.
More Information:
---
Brewers Baseball Camp – August 15-19
-posted May 12, 2022
The Brewers Baseball/Softball Academy is back for a 10th season at Pleasant Prairie RecPlex.
Camps are open to boys and girls ages 6 to 14.
Each camp runs Monday through Friday from 9 a.m. to 3 p.m.
The price for the week-long camp is $405. Sign up with a friend and both save $20.
More information:
---
Sylvan Learning Summer Program
-posted May 12, 2022
Avoid Summer Learning Loss – Make Sylvan Part of Your Summer Schedule.
Students can lose as much as 2.5 months of learning over the summer.
Sylvan will pinpoint the skills your child needs and develop a summer program to help master them.
Flexible summer hours.
More information:
---
Water Safety Coloring Contest
-posted May 6, 2022
May is National Water Safety Month and the Kenosha Community Sailing Center is hosting this coloring contest to promote water safety in our community. We are a non-profit that teaches youth and adults the sport of sailing, water safety and conservation. We are organized for charitable, scientific and educational purposes.
PRIZES: Prizes for all age categories: Basket of age-appropriate water toys and Kenosha Community Sailing Center gift certificate to be used towards sailing courses, programs or rentals (duck pedal boats, kayaks and SUPs). Retail value: $50. Ages categories: 4-6yrs, 7-10yrs, 11-13yrs, 14-16yrs, 17-adult.
ENTRY: Please submit your coloring page by June 30, 2022 to enter our contest. Our mailing address is Kenosha Community Sailing Center, P.O. Box 123, Kenosha WI 53141 or send it electronically to info@kenoshasailing.org. For more Kenosha coloring pages, visit www.ColorofKenosha.com. Artwork will not be returned and may be used for promotional purposes. Please include your name, email, address and age.
Coloring pages:
---
Bradford Golf Outing – Aug. 1
-posted April 8, 2022
Bradford High School is hosting a golf outing on Monday, August 1, 2022 at The Club at Strawberry Creek.
This golf outing is being held to raise funds and support Bradford High School Programs.
Golf: $175 per golfer (Early Bird Special: $150 before June 15) includes 18 holes of golf with cart, lunch, gifts, and hole events.
All event attendees must be 21 years old.
More information: Bradford 2022 Golf Outing Brochure (PDF)
---
Summer Jobs at Kenosha Country Club
-posted March 18, 2022
---
Nike Basketball Camp at Pleasant Prairie 
RecPlex
-posted Feb. 23. 2022
SUMMER: August 1-4 | $315
AGE GROUP: 8-14
GENDER: Coed
More information:
---
2022 Summer Youth Recreation Programs
– posted Feb. 21, 2022
Supervised Playgrounds
Swimming
Tennis Instruction
Elementary Baseball/Softball Instruction
Elementary Basketball Instruction
Elementary Soccer Instruction
Weight Training
More information: Summer Youth Recreation Registration Information
---
Summer Jobs with the Recreation Department
– posted Feb. 21, 2022
​We are looking for people to work in our 6–7 week summer programs. Applicants must be at least 18. College students & graduating seniors proficient in the program are welcome to apply.
More information: Rec Department Summer Jobs
---
Anderson Arts Center CREATIVE CLASSES
Part of the Kemper Center campus, offers classes in art, music and dance for all ages, all year round!
Art Gallery and Gift Shop OPEN for free admission, Tuesdays-Sundays 1 to 4 p.m. Call ahead for schedule.
Location: 6603 3rd Avenue, Kenosha. Telephone: 262-653-0481, Website: andersonartscenter.com
Latest Updates & Special Events Information found on Anderson's Facebook page.
---
Boys & Girls Club of Kenosha
Each child attending the Club needs a membership. Memberships are $20 per child per year or $30 per family per year.
The fee is waived for all teen members (ages 13-18). Program areas of focus include education, leadership,
recreation, health and life skills. A healthy meal or snack is served daily.
Troha Youth Center & Tween Center
Teen Center
Laken Family Jefferson Elementary Extension
BGC Sports

​​BGC Sports (part of Boys & Girls Club of Kenosha) offers youth sport leagues and
clinics to kids ages 4 – 18. Adult leagues are also run in select sports.
---
Building Our Future
Kindergarten Readiness Brochures
Podcast
Get Involved
Whether you are a concerned citizen, business leader, educator, parent, or community volunteer, please consider donating your time, talents, or treasure to help make a difference in the lives of every child, from cradle to career. Complete this form to get involved and learn more today!
Let's Get Your Child Ready for Kindergarten!
You might be surprised to learn that being ready for kindergarten doesn't mean teaching your child math and reading. Rather, your child is ready for kindergarten when they have developed a love of learning and are curious to learn new things. Helping your child prepare for kindergarten will help them have a more positive and successful experience in school. In this video, explore how you can help your child succeed in kindergarten – and beyond!
¡Preparemos a Su Hijo(a) para el Jardín de Niños!
Quizás le sorprenda saber que estar preparado(a) para el jardín de niños no significa enseñar a su hijo(a) matemáticas y lectura. Más bien, su hijo(a) estará listo(a) para el jardín de niños cuando haya desarrollado un amor por el aprendizaje y muestre curiosidad por aprender cosas nuevas. Ayudar a su niño(a) a prepararse para el jardín de niños le ayudará a tener una experiencia más positiva y exitosa en la escuela.
---
Cub Scouts
Interested in Cub Scouting? Join today.
Pick a Cub Scout Pack to join at BEASCOUT.ORG
If you have any questions, please contact Mary Kveton, Red Arrow District Executive at Mary.Kveton@Scouting.org
---
Education Foundation of Kenosha
Seeking Board Members
The Education Foundation of Kenosha was organized in 1980 to support the Kenosha Unified School District and its
mission. The Foundation has financed a wide range of educational and enrichment projects not able to be funded
through the District's normal budgetary allotments.
The Board raises and administers funds to support:

College scholarships for Kenosha K-12 students
Classroom grants to support K-12 teachers

Commitment:

Attend four board meetings per year
Promote and attend fundraising events
Participate on one subcommittee

INTERESTED? Send your resume and a letter of interest to Stacy Busby at sbusby@kusd.edu or 3600 52nd St.,
Kenosha, WI 53144
Learn more about the EFK at educationfoundationkenosha.org​
---
Even Start Family Literacy Program
Need Help with English? Want to Learn English?
For families who reside in the Kenosha Unified School District attendance area.
Adult education provides parents with basic skills, including English, life skills and the opportunity to earn a high school credential.
Parent education provides parents with a wide variety of learning topics, including parenting strategies, how to be advocates and role models for their children and strategies to support their children's learning.
---
Everything Under the Sun
A youth and family activity guide of things to do in the Kenosha area.
---
FoodShares Benefits
Families with FoodShares benefits: Use your EBT card at Kenosha HarborMarket and Westosha Market
---
Great Lakes Surf Rescue Project – Water Safety Resources
Videos

Dave Benjamin's 

drowning accident

 and 'Because I said I would' water safety promise video

John & Kathy Kocher's "

Gentle Giant

" 'Because I said I would promise video.
---
Kenosha Community Health Center
High-quality, affordable health care for all. Visit KCHC online.
Dental Services
Back to School Annual Physical Appointments
Sports Physicals
Student Immunizations
Prescription Program
---
Kenosha Public Library
We offer tons of free activities for children, adults, and families all year round!
---
Volunteer Income Tax Assistance (VITA) Program – Student Volunteers Needed
Help get money back into the hands of Kenosha residents.
No experience necessary.
For more information visit www.kenoshaunitedway.org/vita