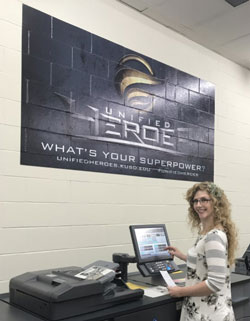 Posters: Make a big impact at your next presentation or in your classroom with a high quality color print. Very inexpensive. Indoor use only.
Banners: Attract staff and students to your next event with a durable banner fitted with grommets for easy hanging. Can be used indoor and outside.
Wall Decals: Adhere your school logo and mascot to your walls. This sticky back vinyl makes it simple. Can be used indoor and outside. *Larger decals will need assistance from the KUSD painters for installation.
Window Clings: Show off your school spirit with a window cling. Printed on either white or clear vinyl. Minimum order of 50 clings.
Floor Decals
View Thru Window Graphics
Signs
The Kenosha Unified Copy Center now offers Wide Format Printing
In addition to the excellent services already provided by the copy center, we now have a Roland 54" Printer/Cutter. Helping your school stand out is easier and more affordable than you might think. With some planning and a creative mind, we work with you to achieve your vision. Call or Email the copy center to get your project going!
How do I request a large format print?
Print files can be sent to the copy center in either an EPS or PDF format. Specify size, media, and quantity. Please communicate with the copy center, we are here to help you figure out what it is you are picturing.
How do I know what type of media I want?
Think about where you would like your image. Taped to a door? Bonded to a wall? Blowing in the wind? Stuck to the floor? This information will help determine which type of media is best. Contact the copy center and we can help direct you in the right path.
What if I don't have the right kind of artwork?
You can fill out the Graphics Request Form found on the KUSD intranet. Our graphics designer will work with you to create the perfect artwork.
How do I know what size I should get?
Measure the area you would like to cover and keep in mind the aspect ratio of your image. You don't want to turn that perfect square into a rectangle by elongating one side too much.

Duplicating Request Procedures
Principal/Department Head or designee MUST sign or email all requests.
Include account number on copy request form or email.
Specify due date.
Do not staple the copy request form to the original copy – use paper clips.

Copy Ready
Originals must be good quality. Bad originals make bad copies.

Note: Digital files make the best copies. We accept all formats including Google Docs.

Pages must be in proper sequence.
A 1/4" minimum margin on all sides is required.
Please do not staple the originals.
Retain files for repeat printing, the copy center does not save your files
Contact Us
Phone: 359-6374
Phone: 359-COPY (2679)
Email: sgildens@kusd.edu
Email: joallen@kusd.edu